The Hagon Range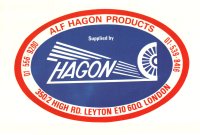 1. The Hagon Speedway.
Alf Hagon's long international speedway career provided the background of competition experience for the design of the Hagon speedway frame, and many Jawa 'Works' riders replace original frames with Hagon components, which are lighter, stronger and more durable. An excellent example has been sent to me by Brian Bassett and shows his Hagon Longtracker. This particular machine houses a Jawa two-valve engine, Jawa two speed Gearbox and clutch and a Mk2 Amal Carb.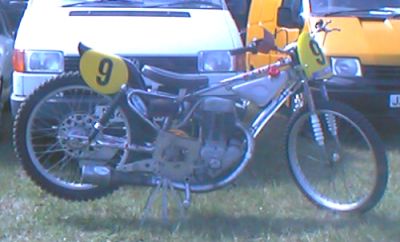 The Hagon speedway frame is equally suitable for Jawa, Weslake and JAP engines. Most components are fully interchangeable with Jawa.
Wheelbase: 132cm (52")
Ground clearance: 10cm (4")
Weight (with Weslake engine): 77 Kgs. ( 170 lbs)
Fuel capacity: 3 Litres (5 Pints)
Oil capacity: .6 Litre (1 Pint)
Steering head angle: 72deg
Seat height: 71cm (28")
2. The Hagon Sandracer.
The most successful track racing machine ever. The Hagon Sandracer has won more races and championships than any other machine. Equally suitable for long or short tracks. The secret of our success is the Sandracer's low weight (a genuine 89 kilos (195Ibs) including JAP engine, Norton 4 speed gearbox and clutch), and strength. The product of 14 years development, technology and engineering technique. You will not find this same weight/strength ratio in any other make of machine, no matter how similar it looks. Don't take our word for it...Weigh them!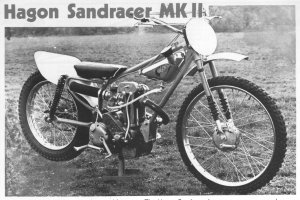 1.SPECIFICATIONS
Wheelbase:..... 137 -142cm 54" - 56"
Seat Height:..... 74cm 29"
Head Angle:..... 70deg
Weight:..... 89 Kgs 195lbs
Front Wheel:..... 23"
Rear Wheel:..... 19" or 22"
Ground Clearance:..... 13cm 5"
Front Suspension Travel:..... 10cm 4"
Rear Suspension Travel:..... 9cm 3 1/2"
Fuel Capacity:..... 3 Litres (5 Pints)
Oil Capacity:..... .6 Litres (1 Pint)
Available for most engine/gearbox combinations, the Hagon Sandracer is supplied in the following forms:- As shown, but without engine, transmission or brakes REF. 1 As shown, less engine only, with disc rear brake, conical front brake, reconditioned Norton gearbox and clutch, all chains, cables, fuel pipes, engine bolts and exhaust pipe supplied REF. 2 To give you the maximum enjoyment and success, we will gladly assemble your Sandracer to your exact specifications, so when ordering please state the fullest possible details.
3. The Hagon Sandracer (Ultra Lightweight).
On long smooth, fast tracks weight becomes a most prominent factor in machine design and our knowledge and experience of building ultra-lightweight machines is unrivaled. We are proud that the World's leading long track riders acknowledge Hagon frames as the lightest possible. Consistent with reliability and performance. Egon Muller, Ivan Mauger, Ole Olsen and Peter Collins all use Lightweight Hagon longtrack frames.
Although similar in appearance every main component is appreciably lighter than its standard sandracer counterpart. This together with great attention to detail and the use of aircraft materials throughout its construction ensure the very low weight and consistent reliability necessary to win the last three World longtrack Championships.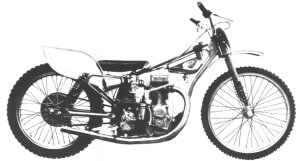 SPECIFICATION:
Main frame components: 45 ton TENSILE AIRCRAFT quality tubing, bronze welded, fully jig built for complete interchangeability.
Forks: Two way damped, pivoting on alloy spindle.
Wheels: Akront flangeless alloy rims, magnesium hubs, lightweight spokes, high tensile spindles, sealed bearings, alloy sprocket, alloy chain guide.
Rear suspension: Girling gas shocks.
Controls: Alloy handlebar, alloy clamps, high impact plastic controls, nylon lined control cables, and high impact plastic number plate. Alloy fuel tank, alloy fuel taps, alloy fuel fittings, alloy motor plates, alloy chain guard. Fibreglass mudguards, alloy aero nuts and high tensile bolts.
In addition to our Ultra-lightweight Sandracer we also produce Ultra-lightweight frames and forks which are interchangeable with standard long track Jawa components, and used by the most successful Jawa works riders.


4. The Hagon B50/CCM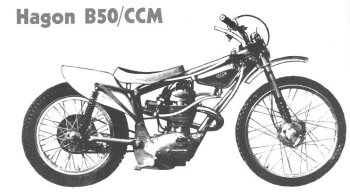 The Hagon B50 will accept wide lug CCM, BSA 250 and 500cc units. Engine plates were also available for C15 and B25 narrow lug engines.
Oil in main frame (return system) with Blue Stoved enamel finish.
5. Hagon Stroker.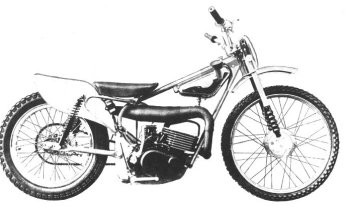 In the field of Stroker construction Hagon's experience and success was unrivalled. The superior handling characteristics of Hagon Frames really proved vital when you had to control the surging power stoker engines produce.
Hagon Frames were available for most racing two-strokes engines, including Bultaco, Husqvarna, Montesa, Maico, Yamaha, Suzuki, Greeves etc.
6. The Hagon LTR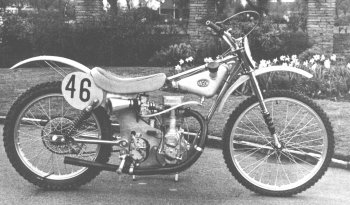 The latest LTR represented the latest development in solo track racing machine design since Alf Hagon produced his first machine in 1957.
Using alloy monocoque construction techniques, developed by Hagon, and proven with World Championship winning sidecar moto-cross machines. The new solo track racing chassis weighed less and handled better than any previous machine.
The LTR was jig built for perfect alignment and interchangeability of parts. The use of Hagon pneumatic front forks was complemented by Girling gas shock rear suspension. Suitable for either 2 or 4 stroke power units.
The chassis employed a motor plate/sub frame unit to save weight and yet was stronger than tubular assembly. Complete with Weslake engine and Norton Gearbox the LTR weighed in at just 181lbs. Less engine, the price was £577 whilst a Frame Kit cost £255.
Hagon Junior machines can be see on the Junior Hagon Page.
---