Manufacturer: BMW
Model: R42
Year: 1928
Displacement: 494 cc
Engine type: 4-stroke sv flat-twin
Bore/Stroke: 68 x 68 mm
Power: 12hp @ 3400 rpm
Compression Ratio: 1:4.9
Weight: 126 kg
Top Speed: 100 km/h
Production years: 1926-1928
Unit: 6502
Frame number: 16456
Engine number: 42825
The R42, introduced in 1926, moved the brand more firmly down the path to profitability and success. With a redesigned and more powerful 500cc engine, now with substantially finned detachable alloy heads, the machine was a superior tourer.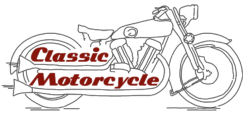 Classic Motorcycle, Austria
Classic Motorcycle specialises in high quality vintage machinery from Europe, the UK and the United States.
More information: Classic Motorcycle