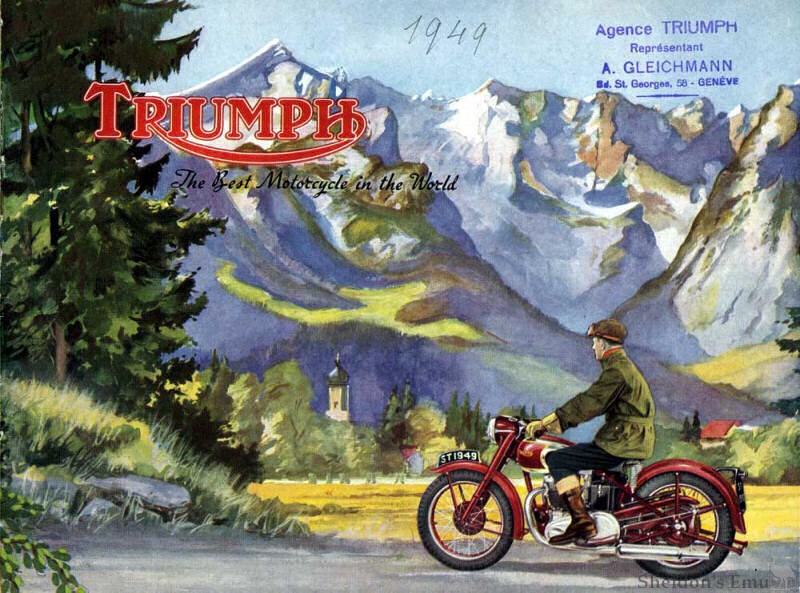 Triumph Motorcycles of the 1940s
Motorcycles were produced at Coventry until early in World War II when the town of Coventry was obliterated during The Blitz (September 7, 1940 to May, 1941). Tooling and machinery was recovered from the devastate site of the factory and production restarted at the new plant at Meriden, West Midlands in 1942.
The Speed Twin designed by Edward Turner before the war was produced in large numbers after the war. Efforts to settle the lend-lease debts caused nearly 70% of Triumph's post war production to be shipped to the United States. Post War, the Speed Twin and Tiger 100 were available with a sprung rear hub, Triumph's first attempt at rear suspension.
In 1948 a motorcycle based on the generator engine produced in the war years appeared. The 499cc TR5 Trophy Twin was introduced at the 1948 Motor Cycle Show. It used a single carburettor, low compression version of the Grand Prix engine which had been produced in limited quantities using alloy components built during the war. Britain won the prestigious 1948 International Six Days Trial. The Triumph works team had finished unpenalised. One team member, Allan Jefferies, had been riding what amounted to a prototype version.
To satisfy the American appetite for motorcycles suited to long distance riding, Turner built a 650 cc version of the Speed Twin design. The new bike was named the Thunderbird (A name Triumph would later license to the Ford Motor Company for use on a car). Only one year after the Thunderbird was introduced a hot rodder in Southern California mated the 650 Thunderbird with a twin carb head originally intended for GP racing and named the new creation the Wonderbird. That 650 cc motor, designed in 1939, held the world's absolute speed record for motorcycles from 1955 until 1970.
Models of the 1940s
Triumph 1940 Models
2H De Luxe 250cc OHV
3H De Luxe 350cc OHV
Speed Twin 500cc OHV
3S de Luxe 350cc SV
3SE 350cc SV
3TW 350cc Military 1940
5S De Luxe 500cc SV
5SE 500cc SV
6S De Luxe 600cc SV
Tiger 70 250cc OHV
Tiger 80 350cc OHV
Tiger 100 500cc OHV
---
Triumph 1941 Models
---

Triumph T5 500 1946
Triumph Speed Twin 1947
Triumph Tiger 100 1946, 1947
Triumph Tiger 85 1946
Triumph 3T 1946
Triumph 3T De Luxe 350 c.c. Twin 1946, 1947


Foreword 1948
The Triumph motor cycle has earned the overwhelming approval of
discriminating motor cyclists over the entire globe: whether it be for
sport, trials, racing or business, the Triumph Twin has proved its
unquestioned superiority.
Triumph 498cc Speed Twin
Triumph 498cc Tiger 100
Triumph 349cc 3T De Luxe


1949 Models
Triumph 349cc 3T OHV
Triumph 498cc 5T OHV
Triumph 498cc T100 OHV

TRW
Produced 1949 to 1964, this was a military model based on the TR5 which was supplied to the RAF and the Canadian Air Force.
Sources include tomcc.org
---