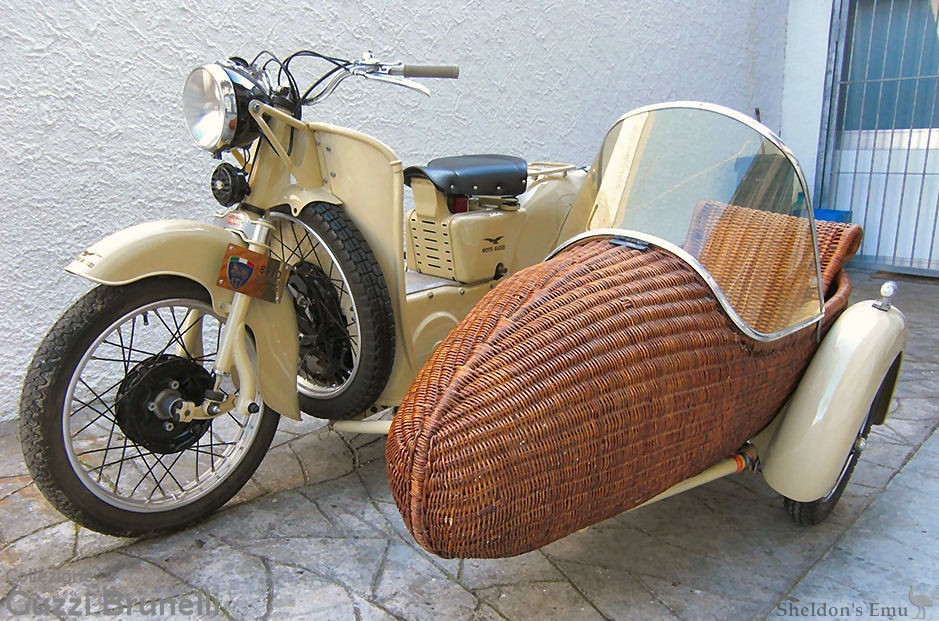 Moto Guzzi Galletto 1950-1966
Produced from 1950 to 1965, it was the first scooter produced by Moto Guzzi. The Galletto is has a single-cylinder four-stroke engine with a horizontal cylinder. It has a spare wheel mounted in front of the leg shield.
With the success of the Piaggio machines, the Galletto was concieved by Carlo Guzzi who wished to to combine the advantages of a motorcycle with those of a scooter.
Presented at the Geneva Motor Show of 1950 it drew considerable attention given its comfort and safety in respect of the rider, along with the major advantage of economical maintenance.
During the years of production, the Mandelo firm introduced four different versions, and solde a total of around 75,000 units. The scooter features large diameter wheels - 2.75-17 front and 3.00-17 rear - and was therefore suitable for long journeys and could carry fairly heavy loads without diminishing performance. The fuel tank had a capacity of 7 litres and the maximum speed was around 85 km / h, depending on the model.
The scooter weighed 107 kg dry and the available colours were bright red, ivory, and white. The engine was a horizontal single-cylinder four-stroke with a displacements of 160, 175 and 192cc. All used kick starters except in the last version which had electric start. The engines were of 160cc (1950-1952), 175cc (1952-1953) and 192 cc (1954-1961, kick start) (1961-1965, electric start).
Galletto 192 specification
Single-cylinder fourstroke
65mm x 58mm (b x s)
Capacity: 192cc
Compression ratio: 1 : 6.4
7.5 hp @ 5,500 rpm
Weight: 123 kg
Wheelbase: 1300 mm
Top speed: 85 km/h
17 inch wheels, front and rear interchangable
Moto Guzzi Galletto 160cc
MOTORE
Scoppio
TEMPI: 4 CILINDRI: 1 ALESAGGIO: mm 63 CORSA: 52 CILINDRATA cc: 160 POTENZA CV: 6 KW: GIRI/min.: 5200
RAFFREDDAMENTO: ad aria naturale
TESTATA: riportata SISTEMA ALIMENTAZIONE: a carburatore - Dell'Orto MA18BSI DISTRIBUZIONE: aste e bilancieri VALVOLE: numero 2 in testa LUBRIFICAZIONE: pompa esterna Moto Guzzi di mandata e recupero ACCENSIONE: a volano magnete AVVIAMENTO:a pedivella
FRIZIONE: A dischi multipli
CAMBIO: Marca: Moto Guzzi n. velocità: 3 in blocco al motore TIPO: ad ingranaggi COMANDO: a pedale

TRASMISSIONE
PRIMARIA (motore-cambio): ingranaggi
SECONDARIA (cambio-ruota):catena DIRETTA (motore-ruota):

TELAIO
PROFILATI A SEZIONE: lamiera stampata TIPO: monotrave PASSO: mm. 1.300

STERZO Diretto
SOSPENSIONI ANTERIORE: bracci oscillanti
TIPO MOLLEGGIO: molle laterali
POSTERIORE: bracci oscillanti
TIPO MOLLEGGIO: molle in foderi

FRENI
FUNZIONAMENTO: meccanico
FRENO ANTERIORE: singolo TIPO: a tamburo
FRENO POSTERIORE: singolo TIPO: a tamburo

RUOTE
A raggi
TIPO PNEUMATICI: a cerchietti
MISURA PNEUMATICI: anteriore: 2,75 x 17 posteriore: 3,00 x 17

IMPIANTO ILLUMINAZIONE
Marca e tipo fanale: Carello
Illuminazione: elettrica

SELLERIE
Numero posti sul motoveicolo (escluso eventuale sidecar): 2
Tipo sella:molle fissate al telaio MATERIALE RIVESTIMENTO: cuoio

FINITURE
TRATTAMENTI GALVANICI: Cromature - Bruniture COLORAZIONI (codici, ripartizioni colori e filetti): avorio Lechler GUZ A15 - Filetti:assenti
---
Gallery: Galletto 1950-1966
Source: Collezione Brunelli
---
If you have a query or information about Moto Guzzi motorcycles please contact us
---