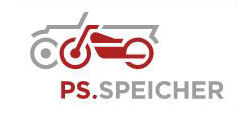 PS.Speicher Museum
Address:
PS.Speicher
Tiedexer Tor 3 37574 Einbeck
Website: ps-speicher.de
The motorcycle section of this museum is vast - 3,500 square meters over three floors. The bulk of the collection features German marques from the 1870s to the 1980s, along with many machines from other nations. Some 220 motorcycles are displayed, but the collection includes many, many more.
The museum is an educational experience covering economic, social and political aspects of motorcycling over 150 years.
For instance, there is a detailed exploration of national socialism. One reviewer states, "In the political program of Adolf Hitler, the automobile industry and road construction were of paramount importance. Varied types of motorcycles and manufacturers such as DKW, NSU, BMW, Zündapp and Victoria testify to the high technical development of German motorcycle construction at this time."
If you have a query or information about this museum please contact us